Image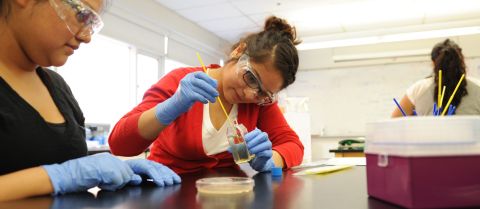 PLEASE READ THESE TERMS OF USE CAREFULLY!
BY ACCESSING THIS SITE, YOU ACKNOWLEDGE THAT YOU HAVE READ THESE TERMS OF USE, AND UNDERSTAND AND AGREE TO ABIDE BY THEM.
The Amgen Biotech Experience (ABE) website is brought to you by a grant from the Amgen Foundation Inc. to Education Development Center Inc. (EDC), a global nonprofit organization.
This Terms of Use Agreement (this "Agreement") describes the terms and conditions applicable to your use of any and all of Amgen Inc.'s and/or Amgen Foundation Inc.'s (collectively "Amgen") websites. If you do not agree to the terms and conditions of this Agreement, please do not use this website. Your use of certain pages or services within this website may be subject to additional terms and conditions. Before being given access to these pages or services, you will be asked to indicate whether you agree to be bound by the additional terms and conditions. If you agree to be bound, you will be given access to the page or service. If you do not agree to be bound, you will not be given access to the page or service.
Amgen may at any time revise or modify this Agreement or impose new conditions for use of this website. Such changes, revisions or modifications shall be effective immediately upon notice to you, which may be given by any means including, without limitation, posting on the website or by e-mail. Any use of the website by you after such notice shall be deemed to constitute acceptance of such changes, revisions or modifications. Amgen may modify its services at any time.
THIS WEBSITE DOES NOT PROVIDE PROFESSIONAL SERVICES ADVICE.
The content on this website is intended to be a general information resource in regard to the ABE program, and is provided solely on an "AS IS" and "AS AVAILABLE" basis.
Scope of Use
Amgen invites you to view, use and download a single copy of this website for your informational, personal, non-commercial use. Except as otherwise provided on this page, no part of any content or software on this website may be copied, downloaded or stored in a retrieval system for any other purpose, nor may it be redistributed for any purpose, without the express written permission of Amgen. You understand that Amgen may discontinue, change, or restrict your use of this website for any reason without notice.
No Warranties
ALL CONTENT ON THIS WEBSITE IS PROVIDED TO YOU ON AN "AS IS" "AS AVAILABLE" BASIS WITHOUT WARRANTY OF ANY KIND EITHER EXPRESS OR IMPLIED, INCLUDING BUT NOT LIMITED TO ANY IMPLIED WARRANTIES OF MERCHANTABILITY, FITNESS FOR A PARTICULAR PURPOSE, ACCURACY, AND NON-INFRINGEMENT. AMGEN MAKES NO WARRANTY AS TO THE ACCURACY, COMPLETENESS, CURRENCY, OR RELIABILITY OF ANY CONTENT AVAILABLE THROUGH THIS WEBSITE. YOU ARE RESPONSIBLE FOR VERIFYING ANY INFORMATION BEFORE RELYING ON IT. USE OF THE WEBSITE AND THE CONTENT AVAILABLE ON THE WEBSITE IS AT YOUR SOLE RISK. AMGEN MAKES NO REPRESENTATIONS OR WARRANTIES THAT USE OF THE WEBSITE WILL BE UNINTERRUPTED OR ERROR-FREE. YOU ARE RESPONSIBLE FOR TAKING ALL NECESSARY PRECAUTIONS TO ENSURE THAT ANY CONTENT YOU OBTAIN FROM THE WEBSITE IS FREE OF VIRUSES.
The above exclusions may not apply in jurisdictions that do not allow the exclusion of certain implied warranties.
Limitation of Liability
YOUR USE OF THE WEBSITE OR ANY CONTENT ON THE WEBSITE IS AT YOUR OWN RISK. AMGEN SPECIFICALLY DISCLAIMS ANY LIABILITY, WHETHER BASED IN CONTRACT, TORT, STRICT LIABILITY OR OTHERWISE, FOR ANY DIRECT, INDIRECT, INCIDENTAL, CONSEQUENTIAL, OR SPECIAL DAMAGES ARISING OUT OF OR IN ANY WAY CONNECTED WITH ACCESS TO OR USE OF THE WEBSITE, EVEN IF AMGEN HAS BEEN ADVISED OF THE POSSIBILITY OF SUCH DAMAGES, INCLUDING BUT NOT LIMITED TO RELIANCE BY ANY PARTY ON ANY CONTENT OBTAINED THROUGH THE USE OF THE WEBSITE, OR THAT ARISES IN CONNECTION WITH MISTAKES OR OMISSIONS IN, OR DELAYS IN TRANSMISSION OF, INFORMATION TO OR FROM THE USER, INTERRUPTIONS IN TELECOMMUNICATIONS CONNECTIONS TO THE WEBSITE OR VIRUSES, WHETHER CAUSED IN WHOLE OR IN PART BY NEGLIGENCE, ACTS OF GOD, WAR, TERRORISM, TELECOMMUNICATIONS FAILURE, THEFT OR DESTRUCTION OF, OR UNAUTHORIZED ACCESS TO THE WEBSITE, OR RELATED INFORMATION OR PROGRAMS.
Indemnification
If you violate any terms of this Agreement or if you misuse this website, you agree to defend, indemnify and hold harmless Amgen, its officers, directors, employees, agents and licensees from any and all liability including costs, expenses and attorneys' fees that arise out of or are related to your violation or misuse.
Trademarks
The trademarks, logos, and service marks (collectively, the "Trademarks") displayed on this website are registered and unregistered Trademarks of Amgen and others. Nothing contained in this website should be construed as granting, by implication, estoppel, or otherwise, any license or right in and to the Trademarks. Unauthorized use of any Trademark may be a violation of federal and state trademark laws.
Copyright
This website is protected by United States' and foreign copyright laws. Except for your informational, personal, non-commercial use as authorized above, you may not modify, reproduce or distribute the design or layout of the website, or individual sections of the design or layout of the website or Amgen logos without Amgen's written permission.
Information, News and Press Releases
The website may contain information, news and/or press releases about Amgen. While this information was believed to be accurate as of the date it was prepared, Amgen disclaims any duty or obligation to update this information, news or any press releases. Information about companies other than Amgen contained in the news, press releases or otherwise, should not be relied upon as being provided or endorsed by Amgen.
Links
This Amgen website may contain links to websites operated by other parties. The linked sites are not under the control of Amgen, and Amgen is not responsible for the content available on any other Internet sites linked to this website. Such links do not imply Amgen's endorsement of material on any other site and Amgen disclaims all liability with regard to your access to such linked websites. Amgen provides links to other Internet sites as a convenience to users, and access to any other Internet sites linked to this website is at your own risk.
Unless otherwise set forth in a written agreement between you and Amgen, you must adhere to Amgen's linking policy as follows: (i) any link to an Amgen website must be a text only link clearly marked "Amgen Biotech Experience WEBSITE," (ii) the appearance, position and other aspects of the link may not be such as to damage or dilute the goodwill associated with Amgen's names and trademarks, (iii) the link must "point" to the root domain name of the ABE website and not to other pages within the website, (iv) the appearance, position and other attributes of the link may not create the false appearance that your organization or entity is sponsored by, affiliated with, or associated with Amgen, (v) when selected by a user, the link must display the website on full-screen and not within a "frame" on the linking website, and (vi) Amgen reserves the right to revoke its consent to the link at any time and in its sole discretion.
Security
This website may require you to register or obtain a password prior to permitting access to the website or certain services available on this site. You are responsible for maintaining the confidentiality of your registration information and password, and for all uses of your password, whether or not authorized by you.
Location, Governing Law and Arbitration
The law of the State of California shall govern these terms and conditions, without reference to its choice of law rules. Amgen makes no representation that the information in the website is appropriate or available for use in other locations, and access to this website from territories where the content of this website may be illegal is prohibited. Those who choose to access this website from other locations do so on their own initiative and are responsible for compliance with applicable local laws.
Any controversy or claim arising under or related to this User Agreement or Amgen's products and/or services shall be settled by binding arbitration in accordance with the commercial rules of arbitration of the American Arbitration Association. Any such controversy or claim shall be arbitrated on an individual basis, and shall not be consolidated in any arbitration with any claim or controversy of any other party. The arbitration shall be conducted in Los Angeles, California, and judgment on the arbitration award may be entered by any court of competent jurisdiction. Either you or Amgen may seek any interim or preliminary relief from a court of competent jurisdiction in Los Angeles County, California, necessary to protect the rights or property of you or Amgen pending the completion of arbitration.
Violations and Additional Policies
Amgen reserves the right to seek all remedies available at law and in equity for violations of these Terms of Use, including the right to block access from a particular Internet address to the website.
Use of Information
Amgen reserves the right, and you authorize Amgen, to the use and assignment of all information regarding your use of this website and all information provided by you in any manner consistent with this User Agreement and applicable federal law.
Securities Laws
This website may include statements concerning Amgen's operations, prospects, strategies, financial condition, future economic performance and demand for Amgen's products or services, as well as its intentions, plans and objectives, that are forward-looking statements. These statements are based upon a number of assumptions and estimates which are subject to significant uncertainties, many of which are beyond our control. When used on the website, words like "anticipates," "expects," "believes," "estimates," "seeks," "plans," "intends" and similar expressions are intended to identify forward-looking statements designed to fall within securities law safe harbors for forward looking statements. The website and the information contained herein does not constitute an offer or a solicitation of an offer for sale of any securities. None of the information contained herein is intended to be, and shall not be deemed to be, incorporated into any of Amgen's securities-related filings or documents.