A new type of science experience has come to classrooms in Mexico. After four schools in the Mexico City and Cuernavaca, state of Morelos, areas piloted the Amgen Biotech Experience (ABE) in May, the hands-on labs have now arrived in classrooms.
It's a significant move, says Monica Georgina Cinco Basurto, director at the Fundación EDUCA México, "because our schools in Mexico do not have access to these kinds of programs. We do not really invest much in science, aside from computer technology, so this is a good chance to teach students about science."
Cinco Basurto and Andrea Flamand, also at Fundación EDUCA México, will be administering the new program, working with the Universidad Autónoma Metropolitana. Cinco Basurto and Flamand previously traveled to San Francisco and Puerto Rico to learn more about the program and do the labs themselves at professional development institutes (PDIs). As non-biologists, they were at first nervous but then excited to see how easy the training made it to complete the lab procedures. Earlier this year, 11 science teachers from the new ABE Mexico schools participated in the training as well, with a PDI run by ABE Tampa in Mexico City.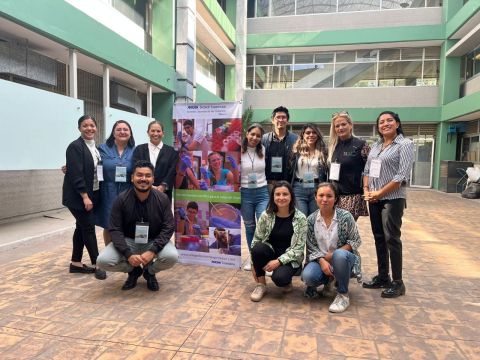 ABE Tampa staff visit ABE Mexico to run their first PDI.
"It's been a dream to be able to have this program in Mexico," Cinco Basurto says. When Cinco Basurto and Flamand first met with ABE staff, they thought it was "a joke" because the concept would be so novel and transformative for students in Mexico, she says.
For the Amgen Foundation and the ABE Program Office, this expansion to the Global South is "a critical step in addressing inequities in STEM, with far fewer opportunities existing for young people in the Global South to engage in and benefit from STEM education," notes Rebecca Lewis, director of the ABE Program Office.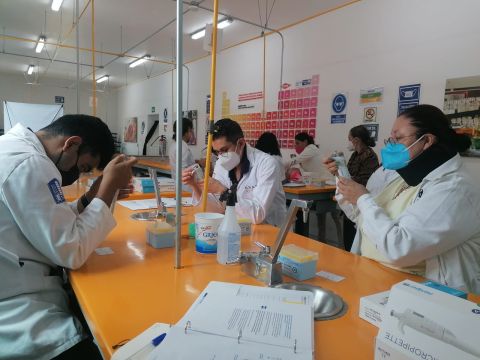 ABE Mexico teachers participate in ABE labs during their first PDI.
"ABE will benefit really low-income students who don't have the facilities in their schools or these beautiful lab materials," Flamand says. The Department of Biotechnology at the Universidad Autónoma Metropolitana will be storing the reagents and other lab materials for use by the schools in Mexico City and Cuernavaca.
"This is a real chance to teach students real science," Cinco Basurto says. "Even in private schools here, this kind of technology is not accessible. For example, most of our students have never heard of or seen a micropipette before seeing the new labs. So, I think it's a window now open to them."