Image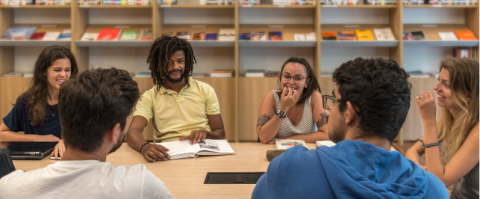 Looking for some new insights or ideas relevant to ABE teachers? Don't miss out on the new monthly Roundtable Series for ABE Teachers! Join us for a new virtual series focusing on teaching topics that matter to you. We hope you find this series valuable. Feel free to tag us in social media any time you join a roundtable and want to share your thoughts, using our @ABEProgOffice handle and #ABERoundtable!
If you missed the November Roundtable "Using LabXchange to Support ABE," check out the webinar recording. 
Coming soon:
Click here to register for any of the events below. Pre-registration is required.
December: Culturally Responsive and Sustaining Pedagogy in the Science Classroom (Wednesday 15 December from 9:00–10:00 pm UTC) 
January: Data Science and the Future of Work (Tuesday 18 January from 9:00–10:00 pm UTC) 
February: Inquiry-Based Science Education (IBSE) (Wednesday, 9 February from 8:00–9:00 pm UTC)
March: Differentiating the ABE Curriculum for Diverse Learners (Tuesday, 15 March from 8:00–9:00 pm UTC)
April: Culturally Sustaining Approaches to Teaching Precision Medicine (Tuesday, 12 April from 8:00–9:00 pm UTC)
May: Citizen Science and ABE (Tuesday, 10 May from 8:00–9:00 pm UTC)
June: Engaging Students in Bioethics (Tuesday, 7 June from 8:00–9:00 pm UTC)
Have an idea or request for a roundtable? Email us at ABEInfo@edc.org!