Denise Tan:


Yielding Big Gains in Biotech Manufacturing
I like the sense of achievement and pride that we each do our part to ensure every lot we make and send out of our doors are of the highest quality and at the right time, so we don't short any patients of the medicine they need.
"Every lot we manufacture is going to have a positive impact to every patient and their family." This statement summarizes for Denise Tan her driving motivation for work every day as director of process development at Amgen Singapore Manufacturing (ASM).
ABE spoke with Tan about her early education, her path to Amgen, and her roles in biotechnology manufacturing.
How did you first become interested in science? And what was your early science education like?
Wow, I seriously cannot remember much. I think we were exposed to science as a subject in school very early on, and it was a subject which I could make sense of and did well in, and so naturally was something I continued pursuing as I continued my education. My education in Singapore was theory and curriculum based. Outside of the curriculum, I remember we had the option to participate in mini science-related projects, where we could earn badges after completing certain activities, so that was pretty cool.
I also remember enjoying the hands-on anatomy sessions in school, school trips to nature reserves (even now, I love taking a day trip to the wetland reserves), and, later on, internship opportunities in hospital/school laboratories.
What did you study at university?
I have been in the science stream since school, and I actually wanted to be a doctor growing up. A job working with a surgeon before university made me realize that is not a career I can see myself in, and hence I enrolled myself into the School of Biological Sciences for college. I assisted a few school professors with their projects and learned through the process that basic life science research was also not something I was going to be interested in.
In my third year of undergraduate studies, I had the opportunity to work with a clinical research project with a hospital, and that was where I had my Eureka moment. I was able to see how the work I was doing directly supported treatment for patients. That was also where I met a mentor who was previously from a clinical biomanufacturing company in Singapore. It was my first contact/knowledge of this industry. It also happened to be the year where the Singapore government decided to invest in the biomanufacturing industry.
So, was that when you began pursuing biotechnology as a career?
Yes, I applied and was offered the training and attachment program (TAP) by the Singapore Economic Development Board, where I worked for Lonza Biologics, Inc. (USA), for 18 months, and the rest is history. After completing the TAP program, I was re-deployed back to Singapore where I was responsible for the start-up and commercialization of two Lonza Singapore facilities. I spent around nine years in Lonza Biologics, where I held diverse roles of increasing responsibility in technical operations and technology transfers.
I was approached by a friend and decided to join Amgen in 2016 as the senior manager of the ASM1 [Amgen Singapore Manufacturing] Process Development group, as well as served as the drug substance team lead for one of the products manufactured in Singapore. I am currently the director of ASM1 Process Development (Biologics).
What do you do in your role with Amgen now?
I am responsible for manufacturing life-saving medicine.
A few examples of what my team and I do to support ongoing commercial manufacturing include being the technical lead for complex investigations, educating various stakeholders, and writing and reviewing documentation to ensure approval of drug substance manufacturing.
Is there anything you wish you had known in high school to better prepare you for this career or about the biotech industry in general?
I think just general awareness of what this industry does and knowledge of associated career options would have helped in those days. Today, there are a lot of opportunities through internships, career fairs, talks, etc.
What do you like the most about your job?
I like the sense of achievement and pride that we each do our part to ensure every lot we make and send out of our doors are of the highest quality and at the right time, so we don't short any patients of the medicine they need.
What is most challenging about the job? What do you like the least about your job?
24/7 commercial manufacturing support
What do you think is the future of the field you are in?
Greater use of digitalization/automation. That said, I think product knowledge and experience will continue to be essential in my field of work to manage unexpected challenges during drug substance/product manufacturing.
What advice do you have for students now?
Keep your options open, be bold and ask questions, build networks wherever the opportunity arises (e.g., career fairs, internship environment, conferences). Also, it is important to know that it is OK to not have answers to every question, or a solution to every problem. Knowing who to approach for advice/expertise (that is why it is important to network!) is the key. Having a positive attitude, willingness to learn, and comfort being placed in uncomfortable situations are great attributes to have.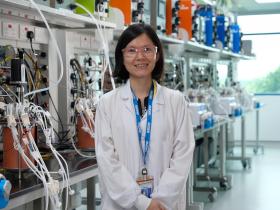 Job Title
Director Of Process Development, Amgen Singapore
Education
Bachelor's Degree in Biology
Connect
LinkedIn