"My teacher is amazing. This is my second year speaking English for the first time, and she has provided me with help to improve my English skills while learning biological concepts and lab skills. She promotes multiculturalism and diversity, and she deserves some recognition for her hard work."
—Student of Mary Jo Renear at East Longmeadow High School in Western Massachusetts
That testimonial is one of 200 that students in New England sent in to nominate their teachers for an Amgen Biotech Experience (ABE) Massachusetts Teacher Recognition Award. The record number of nominations comes in the third year the ABE Massachusetts program has held an appreciation event for its teachers.
"The event is a way for us to recognize our entire ABE community and to enable our teachers to relax while being recognized for their efforts," says Alia Qatarneh of Harvard University who is a site coordinator for ABE Massachusetts. The appreciation event has grown each year as the program grows, with increasingly numbers of students opting to secretly nominate their teachers.
"Across more than 200 nominations, more than 30 teachers were nominated this year," Qatarneh explains. "These are teachers who have been in the Massachusetts program since its inception 8 years ago and also teachers just finishing their first years of the ABE curriculum; they are teachers who work in public schools but also private schools; they truly represent the type of dedicated community we have here at ABE Massachusetts."
Image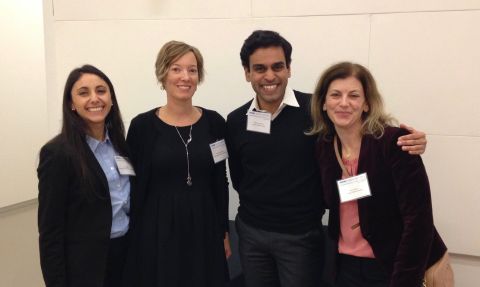 Qatarneh has been working with the program since the beginning, coming in just after the 2-year pilot. After getting an undergraduate degree in biology, she knew she wanted to work in science but also wanted to work with students. Fortunately, Tara Bristow at Harvard was looking for someone to help her set up the new ABE program. "To be able to do science but to also interact with students seemed like a perfect hybrid," Qatarneh says.
Since then, Qatarneh has worked to grow the program, visiting local schools every year and often helping teachers directly as they run the ABE labs. She was just last month at Revere High School in Don Pinkerton's class, who won a teacher appreciation award 2 years ago. "I grew up in East Boston, which neighbors Revere, so he thought it would be great if I came into the lab not just to share content with the students but also so that the students could see themselves potentially in a position like I am in -- a college graduate working at Harvard as a woman in science," she says.
At another school she frequently visits for ABE, East Boston High School, her mom, uncle, aunts, and many friends are alumni. And yet another, Wakefield High School, was were her cousins attended. These local connections make her work especially fulfilling, Qatarneh says.
It all came full circle for her when she was able to help successfully bring ABE to her own alma mater, Boston Latin School, after many years of trying. "I specifically wanted to give them the gift of ABE because I truly believe if I were a student and my teacher introduced me to pipetting and hands-on learning, I would have felt more comfortable entering the lab sector, knowing that molecular biology and biotechnology were subjects for me," she says. "It would have been a powerful experience for me."
Boston Latin School just completed its second year of ABE. "I love going back," she says. "It's a great way to give back to a community that's done so much for me."
Looking ahead, Qatarneh is excited to see how the new LabXchange program from the Amgen Foundation and Harvard will complement and feed into ABE around the world. And she is also just excited to continue to support teachers as they inspire and empower the next generation of scientists.
"I love the ABE Massachusetts and global communities," she says. "It's a fantastic group of teachers, educators, colleagues and has been an amazing experience for me. To see its international growth has been awesome."