The group enjoying a tour of the Amgen production facilities
From our dedicated teachers to program support staff, many people work hard to make the Amgen From
From our dedicated teachers to program support staff, many people work hard to make the Amgen Biotech Experience (ABE) a success. But there is one group of people who often go unrecognized: lab technicians. They do all the behind-the-scenes work — prepping and packing equipment, fielding technical questions from teachers, doing maintenance of the kits and supplies — ultimately enabling our students to have an excellent hands-on lab experience.
For master lab technician Kristina Han, who is also the site coordinator at the University of Toronto Mississauga for ABE-Canada, the role of the lab technician goes well beyond the equipment itself. "Everyone is motivated to bring the best experience they can to their site and their teachers," she says.
That passion was on full display at a recent lab tech meeting at Amgen headquarters in Thousand Oaks, CA, where more than 20 technicians and staff from Asia, Australia, Europe, and North America gathered to swap ideas and bolster connections across the program. The group had previously met in Dublin for a larger all-site meeting, but it became clear after that meeting that a dedicated workshop was necessary for the ABE technicians to delve more into their day-to-day tasks.
At individual sites, the ABE program is typically run by a small group, Han explains, and the technicians are often alone in doing prep work or overseeing groups of students. "A lot of times, we have to know all the answers and that sometimes result in a reluctance to reach out to the global technician community when we encounter an issue that doesn't seem to have an answer no matter how much we troubleshoot," she says. "Face to face meetings help to break down some of these barriers."
A major highlight of the April lab tech meeting in Thousand Oaks was being at the "birthplace" of ABE, Han says. "Being at Amgen's headquarters allow us to be in the same place that the ABE modules were developed, many years ago."
And making a special appearance was Dr. Marty Ikkanda, a biological sciences professor who helped to develop the ABE curriculum and who led the ABE program in Los Angeles for many years. "To have been able to meet in the location where it all began, with the person who developed the current program present and participating, was truly unforgettable," Han says.
Image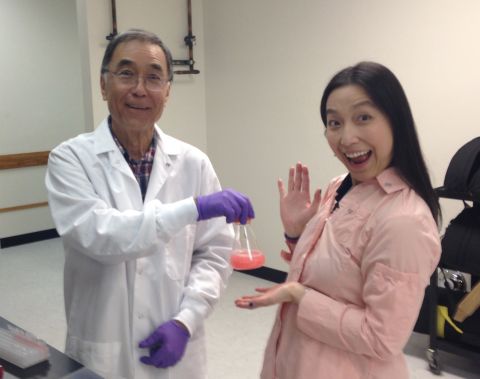 Dr. Marty Ikkanda and Kristina Han examining transformed bacteria
The session itself addressed some commonly asked questions, providing troubleshooting tips for issues that were occurring at multiple sites. But even more importantly, Han says, it was a chance for different sites to share their experiences and expertise, comparing and contrasting practices between smaller and larger sites, as well as newer and more established sites.
Image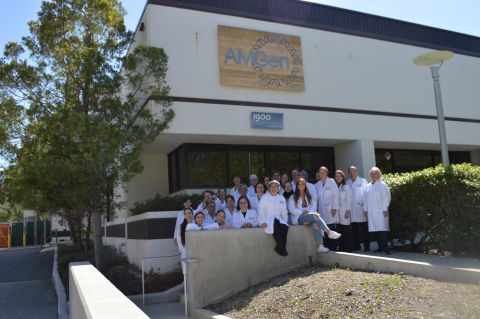 Lab technicians gather in front of Building 1; the original building for Amgen
"We had a few technicians who had just started in their positions, either from a brand new site (Tampa) or from sites that saw a recent staff turnover (Ireland). They were a little wide-eyed given the amount of information that was crammed into the two-day period, but both were absolute troopers," Han says. "At the same time, the level of technical expertise at some of the more established sites is astounding — many have binders full of extra modules that they have developed on top of the ABE labs as amazing teaching tools." This mix provided a unique opportunity for information sharing. "It was wonderful to immerse ourselves over the two-day period with similarly-minded individuals who are all so passionate about science literacy and who also can't wait to learn and share from each other," Han says. She hopes to continue collaborations like this one in the future, where she can learn more in depth about how each site runs its program. "We all have such a sense of personal pride in making our sites run smoothly and effectively, to reaching as many students as we can, and to making the process as stress-free as we can for our teachers."