The week of George Floyd's murder, Prachi Bagadia, like many people, felt like she wanted to take action. A senior associate scientist at Amgen San Francisco, she turned to a colleague, Aby Rodriguez, who works in the Diversity, Inclusion & Belonging Office at Amgen. Writing in an email on June 12th, 2020, Bagadia said, "I was thinking about all that is happening, and while I've been trying to help out in my own community, I was wondering if there was something I could do at Amgen to help. … Do we have mentoring programs through Amgen [with] middle/high schools?"
Rodriguez immediately thought of the Amgen Biotech Experience (ABE), a program she herself participated in as a high school student in Puerto Rico, and whether they could put together a lab students could do at home during the pandemic to try to reach underrepresented communities. "I felt Prachi's contagious sense of urgency and reached out to a school we had volunteered with in the past serving the Oakland community with a STEM curriculum," Rodriguez says.
Image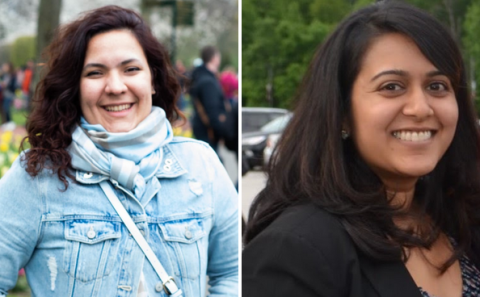 The program began at one school, Oakland Life Academy, but would eventually expand to several schools and organizations. The premise was to create at-home lab kits, where scientists and educators could lead students through the work virtually.
For the first kits, Bagadia went to a grocery store at 6 am and bought 30 bananas. "We still joke about that!" Rodriguez says. But the bananas were core to the experiment, which had the students extracting DNA from the fruit.
In addition to the bananas, the kits included graduated cylinders, conical tubes, and other plasticware donated by Amgen San Francisco, as well as water, salt, soap, isopropyl alcohol, and a mesh cloth. Bagadia and Rodriguez used the DNA extraction protocol from LabXchange, modifying it for the virtual setting.
Image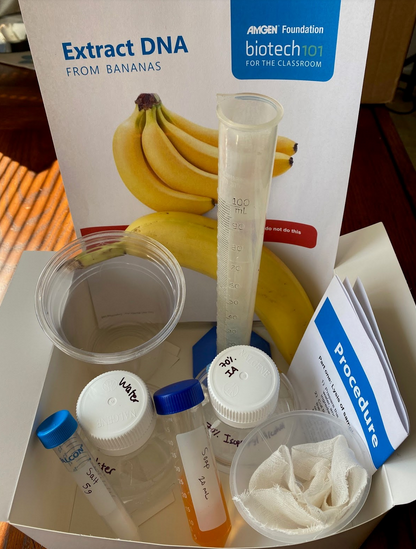 They worked closely with the school's science teacher, Emily Frank, who oversaw the virtual setup. Frank created virtual breakout rooms with volunteers in each room and rotated the students through them. Frank also encouraged her student leaders to reach out to the organizers prior to the event with ideas and post-event with feedback.
"We were able to have a feedback meeting with the student leaders representing the classroom who shared that they all enjoyed having a hands-on activity after being at home for so long," Bagadia says. "They also shared that the content was relevant and that we were able to answer all of their questions around topics like COVID-19, careers in biotech, and next steps after high school."
Something that made the first event especially memorable was its timing when the Nobel Prize for Chemistry was awarded to Emmanuelle Charpentier and Jennifer A. Doudna for the genomic editing tool CRISPR. "Since the students were performing a DNA extraction, we were able to connect the easy lab they were doing at home to the real-world," Bagadia says. "We demonstrated that every monumental discovery begins with a simple experiment, and the students had great questions about the uses and potential of CRISPR technology."
After the success of the first event, multiple Oakland-area schools participated in the remote lab through a Virtual Biotech Summit organized by Frank. And following the Summit, Rodriguez and Bagadia hosted a drug discovery workshop, going through the whole process of developing a therapeutic from discovery to manufacturing and commercialization. They had help from a number of volunteers across Amgen to make the event possible.
Rodriguez and Bagadia are currently helping to implement the same program with ABE Rhode Island, and they have created a playbook to capture how to set up this kind of event. "Sadly, due to the progress of the pandemic we have been unable to roll this program out at other sites, but we believe there will be an opportunity to do this in the near future," Rodriguez says.
Both Amgen staff members are driven to give back to their communities through such outreach activities. "If we have the resources to help our community, we have an obligation to help our community," Bagadia says. "I was called to action during the summer's Black Lives Matter movement and was so inspired by Amgen employees' willingness and passion to help with this educational outreach effort."
She continues, "There is not one linear way to get into the biotechnology field and to work at a company such as Amgen, so exposing students to our unique paths and experiences may inspire them to pursue a career in biotechnology. The students we interacted with were so curious and creative, which is exactly what we need in this field!"