ABE teachers—and all science teachers—now have an exciting new resource at their fingertips. Launched in January by the Amgen Foundation, LabXchange was designed to level the playing field for the next generation of scientists by providing free access to online skills-based tools that are independent of expensive lab resources. LabXchange also offers a wealth of information to help students explore various career paths and gain mentorship—thus greatly expanding the opportunities available to them.
"We're very interested in helping all students see themselves as part of a diverse and inclusive scientific community," says Jessica Silverman, the secondary school instructional design manager for LabXchange at Harvard University. What drew Silverman, a former biology teacher, to LabXchange in the first place was the idea of having a large library of resources that teachers could draw from and customize to best serve their students. "The bite-size nature of the content on LabXchange keeps the learning experiences focused and dynamic, and the variety of modalities in the library gives students multiple ways to engage with a topic," she says.
The online platform is designed to give students new ways to virtually learn about the biosciences, and includes articles, videos, and interactive lab simulations, as well as lots of ways to interact with other students, scientists, and educators in the life science community. "The social features on LabXchange, like mentorship and discussion boards, will help students connect with people who have firsthand knowledge or expertise in a topic they're interested in, fostering great conversations and connections."
Silverman's personal goal in working with LabXchange is to provide a supportive resource for educators that will help them meet the needs of all students in a time efficient way. "Supporting each student individually in the classroom is so important to student success but is also incredibly demanding for teachers, whose time is being spread ever thinner with more and more responsibilities," she says. 
Before coming to LabXchange, Silverman taught a new multi-level chemistry class where she created a differentiated curriculum. "During that incredibly demanding year, I wish I had had a tool like LabXchange," she says. "I could have created a pathway about a concept and easily customized it by swapping experiences in and out to differentiate not just for multiple levels but really personalize instruction for each student."
Now Silverman gets to work with teachers from the ABE community and beyond to make sure the platform's design and content are as supportive for educators as possible. From the beginning of LabXchange, ABE teachers in Massachusetts have been active partners. And other global sites have helped to beta test the platform, providing invaluable feedback.
In a small town off the coast of Italy, one teacher, Dr. Paola Travascio, used LabXchange to complement the use of the ABE curriculum—using it as a pre- and post-laboratory reflection tool. Writing on the LabXchange blog, Travascio said, "What I liked most about LabXchange was the opportunity to integrate lab practice and virtual simulations, as well as the flexibility of creating personal learning pathways." 
Indeed, Silverman's favorite feature of LabXchange is the pathways that enable teachers to create a custom curriculum for their class or select students. The pathways can be used for virtually anything from reviewing a topic taught in class to building skills like lab techniques.
Image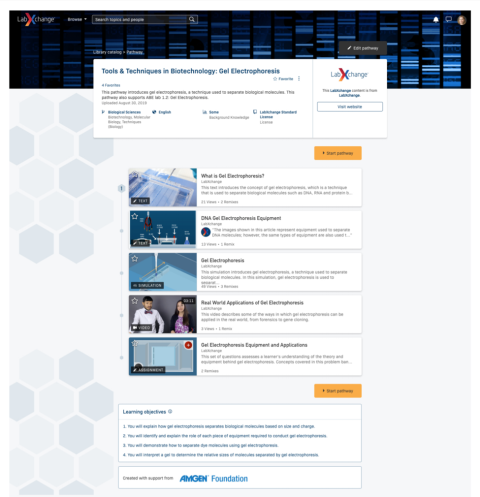 "I'm also excited to see students create their own pathways as a new form of assessment to showcase what they've learned about a topic or how they completed a project," Silverman says. "By engaging in the act of choosing learning experiences for their pathway, students can demonstrate not only their understanding of a topic but also their unique perspective and interests related to it."
While LabXchange was just released last month, there are still many exciting features ahead, especially as the online community grows. The platform will soon add a suite of content aimed at helping students prepare for college and navigate the college application process.
"We're also working to grow the presence of professional scientists on the platform who can serve as mentors for students interested in learning about particular topics in science or what their paths toward a STEM career could look like," Silverman says. "The more diversity of perspectives and representations of science that we can bring to the platform, the more we will be able to provide educators with the resources they need to support all students."
LabXchange is offering a virtual professional development workshop in February 2020 to support ABE teachers in integrating LabXchange with their existing ABE curriculum. Register here.
They are also sponsoring a contest for gift card prizes if you sign up for a LabXchange account and explore the platform. Learn more about the options here.
And check out this overview guide Silverman created for ABE teachers interested in using LabXchange.