Part 2: Planning Your Online Instruction
Part 2 is a continuation of the ABE Program Office's series of blog posts that offer teachers resources and support as they transition to online learning during the COVID-19 crisis around the globe.
How Will You Teach?
As you move forward, you will need to think about evolving your online teaching strategies. The following questions will help you think about your strategy.
Will you include some synchronous sessions (e.g., you and your students will gather at predetermined times for live interactions), or will you teach exclusively asynchronously (e.g., you will provide material for students to work on at their own pace)? If you choose to teach some or all of your classes synchronously, students' access to technology will be important. Video conferencing requires fast and stable internet connections, and some students may not have access to reliable internet service. If you do decide to use live interactions, Synchronous Online Classes: 10 Tips for Engaging Students has excellent suggestions for keeping students engaged. To hold synchronous classes, you can choose from a wide variety of free video conferencing tools (this list of the 10 best free video conferencing tools may be helpful).

Will you ask students to interact with one another? You may choose to have students work independently or with one another by using discussion forums or small groups that interact via email or messaging tools. The article, 5 Online Discussion Tools to Fuel Student Engagement, may help you find tools that will allow discussions.  

How will you communicate with students? Will you email them, post notices through your school's online systems, and/or offer times for synchronous interaction?

How will students be assessed? It is important to set out clear guidelines and expectations for students before you begin online instruction. This information may help you design assessments: Assessing Students Online: Defining Assessment.
Online Alternatives
No matter how you teach in person, you can probably find a technology solution that will allow you to teach in that manner online. The table below contains several suggestions for online learning strategies to try in place of in-person methods. Starting out by making a few simple substitutions can help both you and your students begin to feel more comfortable with online learning.
Instead of ...
Try ...
Lecturing
Assigning paper worksheets

Email students a word processing or PDF document with a problem set

Share a "view only" document through Google docs and have students copy it to their Google drive and work on it there.

In-class group work

Give groups of students an assignment to work on collaboratively in a Google Doc 

Notify students of their group assignment and have students collaborate via online video conferencing or online discussion tools (see below).

Verbal brainstorm

Brainstorm on virtual sticky notes (Padlet.com, other)

Class discussion

In-class quiz
Laboratory sessions

Demonstrate key techniques in front of the camera in real time.

Record pre-made videos of key techniques and share them with students.

Have students use a lab simulation tool such as LabXchange.
Some Dos and Don'ts
The infographic below from Alison Yang of the KIS International School in Bangkok, Thailand, may help you as you consider developing your online resources (you can get more tips about online learning from her blog). If you find this particularly helpful, download a copy.
Image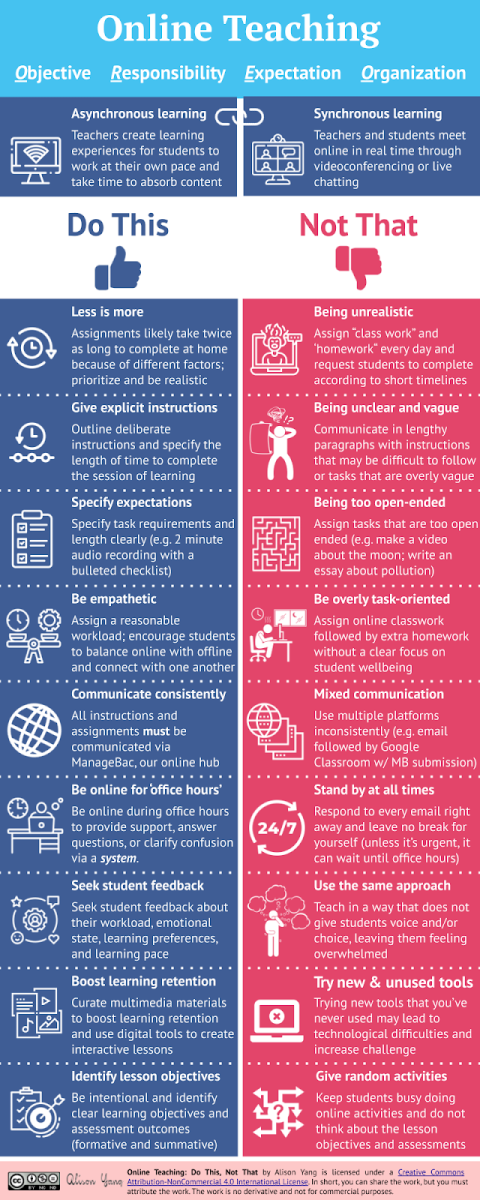 Other Recent Resources from the Program Office